10 Tips For Men – How to Ace Your First Date
Do you have an upcoming date? While you are most likely looking forward to it, there is a chance you are also feeling a little nervous or overwhelmed. The good news is that there are several things you can do to ensure that a first date turns into a second.
Using our years of experience in the industry, our matchmaking experts have compiled a list of tips for a good first date. Keeping these first date tips in mind can help keep the experience as enjoyable as possible and increase your chances of landing date number two.
Tips To Ace Your First Date
Wondering what to do on a first date? We've got you covered with our 10 tips for a good first date.
1. Be On Time
Showing up late to a date is an automatic way to make a poor first impression, a BIG no. Showing up on time conveys respect and thoughtfulness and shows your date that you value good manners.
Aim to show up about 5 to 10 minutes early to ensure your date starts on a positive note. As you are waiting, scan the restaurant, coffee shop, or park for the perfect place to sit.
2. Dress To Impress
While you don't need to wear a suit and tie, you also don't want to look like you just rolled out of bed. Aim to wear a polished, smart casual outfit that makes you look put together and stylish without looking like you are going overboard or trying too hard. Be careful to avoid tattered jeans or wrinkled shirts and remember that a bit of effort will go a long way in making a good first impression.
Depending on where you're going, a nice shirt, chinos, and a jacket will look perfect.
3. Ask the Right Questions
For conversation, you want to find a nice balance between learning about your date and letting her know a bit about yourself. Get the conversation rolling by asking about her passions, her interests, her hobbies, her family, and her job. From there, ask follow-up questions to show you are paying attention and are interested in her answers.
Get to know her on a deeper level, ask 'why', why do you love the beach so much? Why do you love horse riding? You'll get to know your date by going that one step further.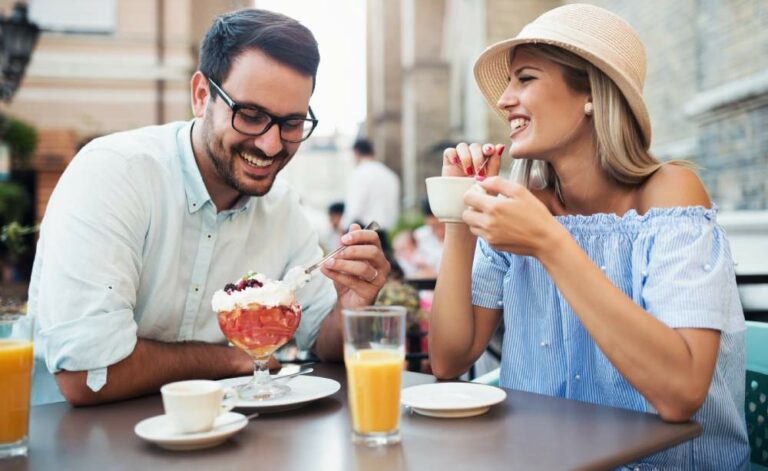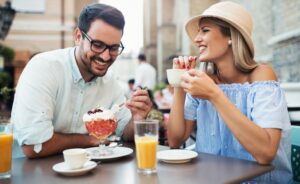 4. Make It Memorable
Sure, getting to know each other and having a great conversation are important parts of a great first date. But don't forget to do something fun together. Think about what tourists do when they visit your area and consider trying something new or unique.
Of course, you can always start the date at a coffee shop or restaurant. From there, get to know her, in a more comfortable setting. Consider an activity that goes beyond dinner and drinks, such as:
Go for a walk at Cottesloe beach
Taking a painting and wine class
Checking out a local art gallery or museum
Heading out to the Swan Valley
For more on this, have a read of our top 5 summer date ideas!
5. Give A Nice Compliment
Thoughtful compliments can go a long way in helping your date feel appreciated. Rather than cheesy lines, generic praise, or vague comments, offer compliments that are specific and genuine.
Pay attention to what she is wearing, if she has a lovely perfume on, or how great her smile is. And don't forget, compliments are not limited to physical appearance. Do you love the way your date laughs? Or the passion she has for her hobbies or interests? Be sure to let her know.
6. Limit Touchiness
Do you think touching your date a lot on the first date will help her feel special or let her know you are into her? It just shows that you are super touchy-feely and may even come off aggressive or creepy.
Try to limit your physical contact and keep it simple, friendly, warm, and natural. Examples of natural, friendly physical gestures include:
Take her hand to lead her through a crowded area in a restaurant
Offer your hand to help your date out of the car
Put your hand on your date's lower back as you lead her out of a restaurant
See how your date responds to any physical contact and back off if she does not seem receptive to your touch.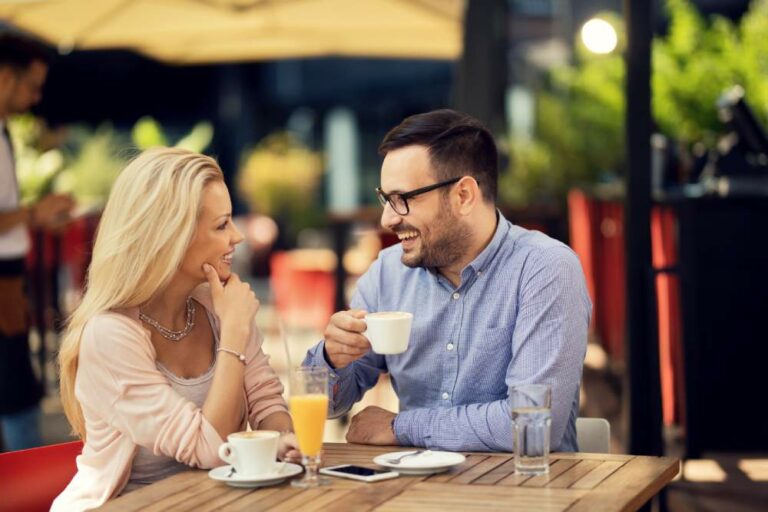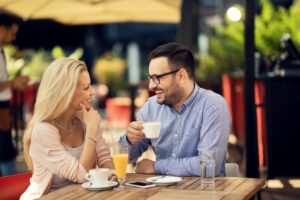 7. Be Present
Do you want to know where your phone belongs on a date? In your pocket. On silent.
It doesn't matter how many business emails are coming in or how packed your schedule is, your phone can wait. Ignore distractions from the outside world and show your date that you value her time and are invested in the experience and hoping to form a genuine connection.
8. Keep Your Enthusiasm In Check
It's understandable to be eager for a first date, but being overly enthusiastic can make you appear nervous, uncomfortable, and poor at self-regulation.
If you tend to get overly eager or anxious, consider planning a date at a concert or a play where you aren't the sole focus of attention. These options still allow you and your date a chance to get to know each other while taking some of the pressure off of keeping a steady conversation flowing.
9. Use Your Intuition To Decide On a Hug or a Kiss at the End of the Night
If you pay close attention to your date's signals and body language throughout the night, you can usually tell if the date is going well or not. If your date is making eye contact, leaning into you, touching you, and seeming interested in what you are saying, these are all great indicators of a true connection!
These subtle cues can help you decide if you want to say goodbye with a hug or a kiss when the date is over.
Even if the date is amazing and you feel a genuine connection, not everyone is comfortable kissing on the first date. Is your date lingering as you say goodbye or leaning into you? She may be hoping for a kiss. If guessing games aren't your thing, you can always just ask!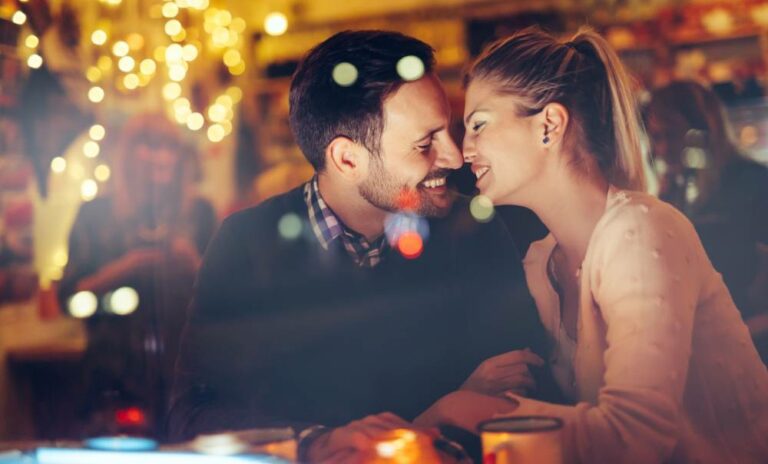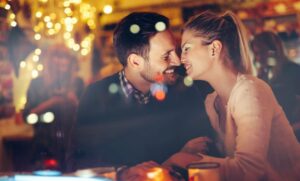 10. Forget The "Wait To Follow Up" Rule
Did you have a blast and feel a connection to your date? If so, forget waiting several days to follow up and go ahead and reach out.
If you didn't tell her already, send your date a message and let her know you had a great time and would love to see her again. It's that simple.
Looking For More Relationship Advice?
We hope you found our list of first date tips helpful. The most important part of a first date? Remember to enjoy yourself, laugh, and try to not put much too much pressure on yourself.
Need help meeting elite singles in the Perth area? That's where we come in. Our experienced matchmakers at HYTCH have years of experience bringing together like-minded, elite couples.
If you are busy running a successful business, pursuing your interests or you simply haven't found a genuine connection, our expert matchmakers are here to put in the hard work for you.
If you would like to learn more about our matchmaking services and how we connect eligible, professional singles in the Perth area, please feel free to enquire today.